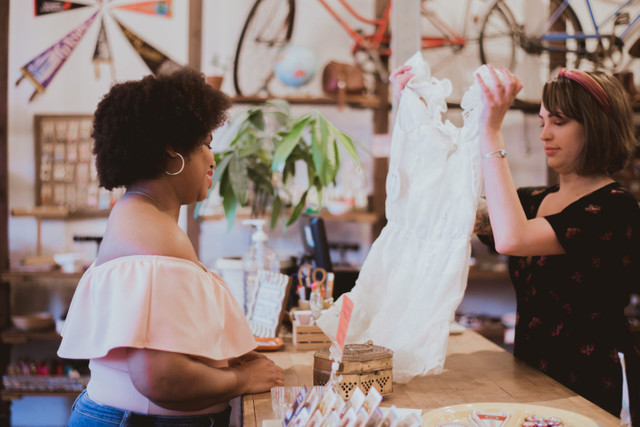 When my dad took me to buy my first car, he called ahead to the dealership and after a few pleasantries, he requested a black salesperson. My 20-year old self thought it was strange but brushed it off. As I've gotten older, that memory has stuck with me; well that despite the car shopping I thought I was going to do that day, my dad had a car picked out already and all I did was test drive it and pick the color lol!
Now that I'm older, I realize why my dad knew the importance of the move he made. He knew that was money in his pocket to support his family. Would help his sales record, hopefully helping him get a promotion one day and keep money in our community. When I sit and think about it, my dad over the years has been very intentional about who he supports with his dollars. He not only looks for the BEST deals; a skill I got from him, he looks to see if he can buy small and buy black first. While I got my gift for scouring high and low for the best price, shopping small and black didn't rub off on me. And I have to admit, I'm a bit ashamed. When a brand or small business contracts my services, it means everything. It helps me support my family, save for my future, and gives me the ability to reinvest in my business so one day I can employ others. With economic equity in the black community one of the pillars of our modern-day Civil Rights Movement, it's made me face some hard truths about me and how I've not supported my community with my dollars.
Today that is changing.
After having a talk with my budget, starting this month, and until the end of this year, I am vowing to spend $50 per month with different black-owned businesses. I can't just talk the talk, I have to walk the walk and the walking starts now! At the end of the month, I will highlight the one black-owned business I shopped via a blog post so you can check them out!
And because the more the merrier, I would love for you to join me as well. Now we are still in the season of Rona (nasty bitch), so your personal finances may be tight and if $50 is too much do what you can. Also, I would love for you to share with me what business you supported and the dollar amount so I can tally up how much we spend supporting black businesses as a collective.
I legit came up with this on the fly, so I know I have to iron a few things out, so stay tuned next week for an update!
XOXO,
Shanna