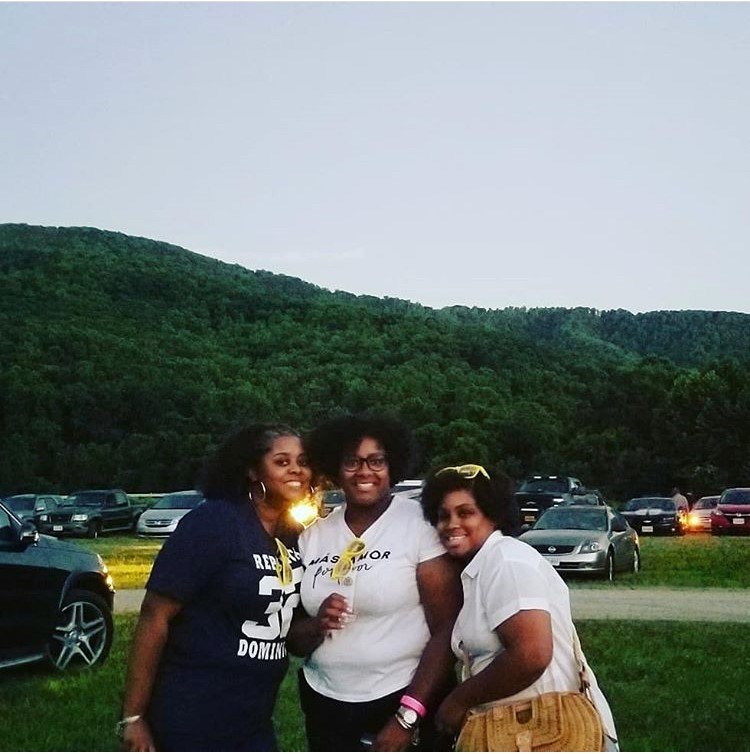 Have you ever gotten so lost in sharing moments you forget to live them?
My job is to share moments with you guys. I'm very blessed to get invited places and have amazing experiences but the catch to that is I have to share them and let me be clear, I DON'T MIND THAT AT ALL!! I love giving you guys front row seats to what I am doing but sometimes I just want to live in the moment, experience things in real time and not always have to feel like I'm in front of the class at show and tell. A few weekends ago, I treated my sister and best friend for a little road trip to Devils Backbone Brewery and I was busy living in the moment, I forgot my job was to take pictures of the moment I was living; but if you caught my insta stories you saw glimpses of it (I've reposted them on my Instastories for old times' sake) If you've never been out to "Basecamp", you're really missing out. Nestled in the mountains of Roseland, Virginia or Basecamp, as the locals call it, seems a million miles always from everything. It's as if you step into a postcard; surrounded by the mountains at every turn and a crystal clear blue sky. It makes it difficult for this die hard city gal to talk smack!
As we made our way into Basecamp from the parking lot, we could hear the soulful sounds of a woman singing Michael Jackson's "Rock with You" and I knew we were in for a good time! While standing in line waiting to be checked in with other party goers, it was the party before the party with all the singing and dancing! Our first stop was to a few tents that were set up for beer tasting and my sister and bestie tried them all; I was on DD duty lol! After a few taste test, we couldn't decide what we wanted to do first and finally made a beeline for some grub; who knew driving a few hours out of the city could make you so hungry! We walked over to the outdoor eatery and after a quick look over the menu I choose the hamburger, my sister a hot dog and my best friend got the bbq sandwich all with a side of homemade chips. Let me tell you, EVERYTHING was delicious! My sister took a little peek while the chef was preparing our food and as she walked to the outdoor tables, under a beautifully made wooden rustic trellis that gives a 360 degree view of the property she squeals, "Y'all they are made our food from scratch"! We dug into our meals and mid-way through everyone was full but the food was so good, no one wanted to stop eating; something we justified because we had to "taste everyone else's dish" lol! We ate and talked for what turned into an hour or so, listening the band play music from Maroon 5 to Gladys Knight and people watching; the group of people in front us played Jenga, the people to the left of us played cards, while the people to the right of us seemed to be people watching as well; we made eye contact a few times! Though everyone was in their own little personal world, everyone has the same look of total relaxation on their faces. It was as if no one had a care in the world and for a second it stopped.
While talking, my sister spots a woman with what we first assumed was lemonade and asked where she got it from. Before she could respond her friend interjected "It's a Strawberry Lemonade Lager and it's so good, you have to try it!" and without missing a beat, she comes and pour a bit in my sister's cup followed by my friend and watches as they take a taste. "Good right" she says with a smile on her face and they both nodded in agreement as they were still taking gulps of the drink. We got up and make our way to the bar and order two large cups of the beer and walk around the rest of the property. At every turn we saw people walking, dancing and drinking…I mean we were at a brewery and just having a good time. As I was in the middle of snapping a picture of my sister and bestie a woman walked up and asked to jump in! We walked to the lounge area and made our way through the crowd of guest all talking and laughing and found a seat on a dark chocolate brown couch that gave us a view out of a huge window that had a perfect view of the rolling hills. We chatted with a few of the other guest about who was from where and how amazing the property was and then made our way to the restaurant next door; I have a sweet tooth and wanted to see what sweet treats were to be had! The wait for a table, AN HOUR but we got lucky because we low key stalked a group of three at the bar and when then noticed us looking laughed and said, "We did the same thing!" As soon as they left, we swooped in and was quickly waited on by quite possibly the coolest waitress ever! It didn't take us long to order from the desert menu, our waitress told us what we needed to get and boy was she right. We split homemade cookies, ice cream and banana pudding that was so good we swore someone's grandma was locked in the kitchen cooking!
After desert we were totally stuffed and upon walking out to sit in front of a campfire we found a smore's bar!!! ARE YOU FREAKING KIDDING ME!!! And this was no ordinary smore's bar, you had so many choices it made my head spin; snickers infused marshmallows, fresh raspberries and bacon, YES BACON! We each made our custom smore's; I added raspberries to mine, my sister went for snickers and my bestie went for a combo of bacon and white chocolate and we found a seats near the front of the fire pit and ate our creations under the stars while the band played everything from Kayne West's "Gold Digger to Will Smith's "Getting Jiggy With It"! We laughed and joked with other guest and had a real good laugh when my sister decided to cook a piece of bacon she got on the open campfire!
Before we left, we found a life sided Jenga game set up so my bestie and I played a round, I won of course and we danced out with the last song, vowing to take one final trip back before summer ends. Sometimes it's nice to disconnect. We've become a society that's always plugged in, always sharing the moment and sometimes we need to just need to be present. After this trip, I will be making an effort to be in the moment more!
XOXO,
Shanna
Thank you to the Devils Backbone team for the amazing trip