Dear Minnie,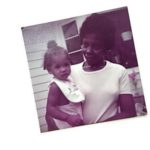 It's been two years since I've started this blog and I can't believe it's been that long. The reason I started this blog was to have a outlet for all of my excess creativity and I never imagined others would read it and follow along. I also never imagined brands would reach out to me and want to feature their stuff on my space; that's CRAZY to me!
To celebrate my birthday, I wanted to give my little space of the inter-web a fresh new look and a small name change. When I named my blog in the beginning, it was my way of having those grandma/granddaughter moments I see in the movies; I would come for a visit and you would let me play dress up in your closet! I got my love of vintage from mommy but she had to get it from some place and that was you and it would've been cool, the three of us shopping for vintage and antiques, while I listened to stories from years past. I wanted a name that reflected the two of us playing dress up and me and minnie popped into my head; it was actually minnie and me but Google wouldn't let me to be great lol!  Don't worry, everything will still be the same as before. I'm still going to share my outfits, food I love, places I visit and most importantly we will still have our weekly chats! And if you ever want to go back you can, the blog is still there in cyberspace! A lot of cool things are starting to happen for me in this space and I'm excited to have you along for the ride!
School is going fine, a little behind in my course work, but I'm playing catch up today and tomorrow. Kamari starts Jr. High School Tuesday and his birthday is Thursday so it's a big week for him! I've got his gift all picked out and I can't wait until he sees it! Well I've got to get started on my homework so I have to go.
I hope you're well grandma and I'll talk to you soon!
XOXO,
Shanna